Brazilian fullback Fabio da Silva enjoyed a good season at Manchester United in 2011 as he won the Premier League title and also featured from the start during the 2011 Champions League clash with Spanish La Liga giants Barcelona.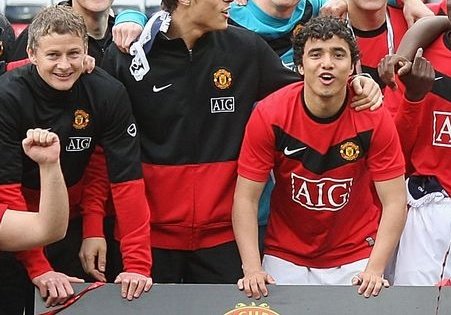 Fabio da Silva and Manchester United had revenge on their minds when they faced Barcelona in the Champions League final in 2011. Two years earlier, the great Lionel Messi inspired Barcelona to a 2-0 win over Manchester United in Rome. The petite Argentine scored the second and clinching goal in the second half of the 2009 Champions League final after Samuel Eto'o established a first half lead for the Catalans with his strike in the tenth minute.
Manchester United manager Sir Alex Ferguson opted for a four-man defence during the 2011 Champions League final at the Wembley Stadium. Frenchman Patrice Evra was at left-back, while Fabio da Silva started the game at right-back. Rio Ferdinand and NemanjaVidic were the central defenders, while Dutchman Edwin Van Der Sarwas in the United goal. Ryan Giggs and Michael Carrick were the central midfielders for the Red Devils, while Antonio Valencia and Ji-Sung Park were on the right wing and left wing respectively. Wayne Rooney and Mexican international Javier Hernandez started in attack for Manchester United.
Just like what was obtainable with the 2009 Champions League final in the Italian capital city of Rome, Messi also scored during the 2011 Champions League final. The Argentine international scored the second Barcelona goal to help the Catalans regain the lead nine minutes into the second half after Rooney cancelled out the opener from Pedro Rodriguez on 27 minutes. Rooney scored seven minutes after the opening goal from Pedro. David Villa sealed the 3-1 win on 69 minutes. Fabio da Silva was replaced by Portuguese winger Nani immediately after the third Barcelona goal from Villa.